Updated by Lordell
---
UPCOMING RELEASES:
---
2020 - APRIL
Live DB
HelpDesk (Update)
Live Chat
Capacity's Live Chat isn't an isolated, one-off tool. Seamlessly integrated with our Knowledge Base, Guided Conversations, and Helpdesk, Live Chat is yet another element of a holistic support experience.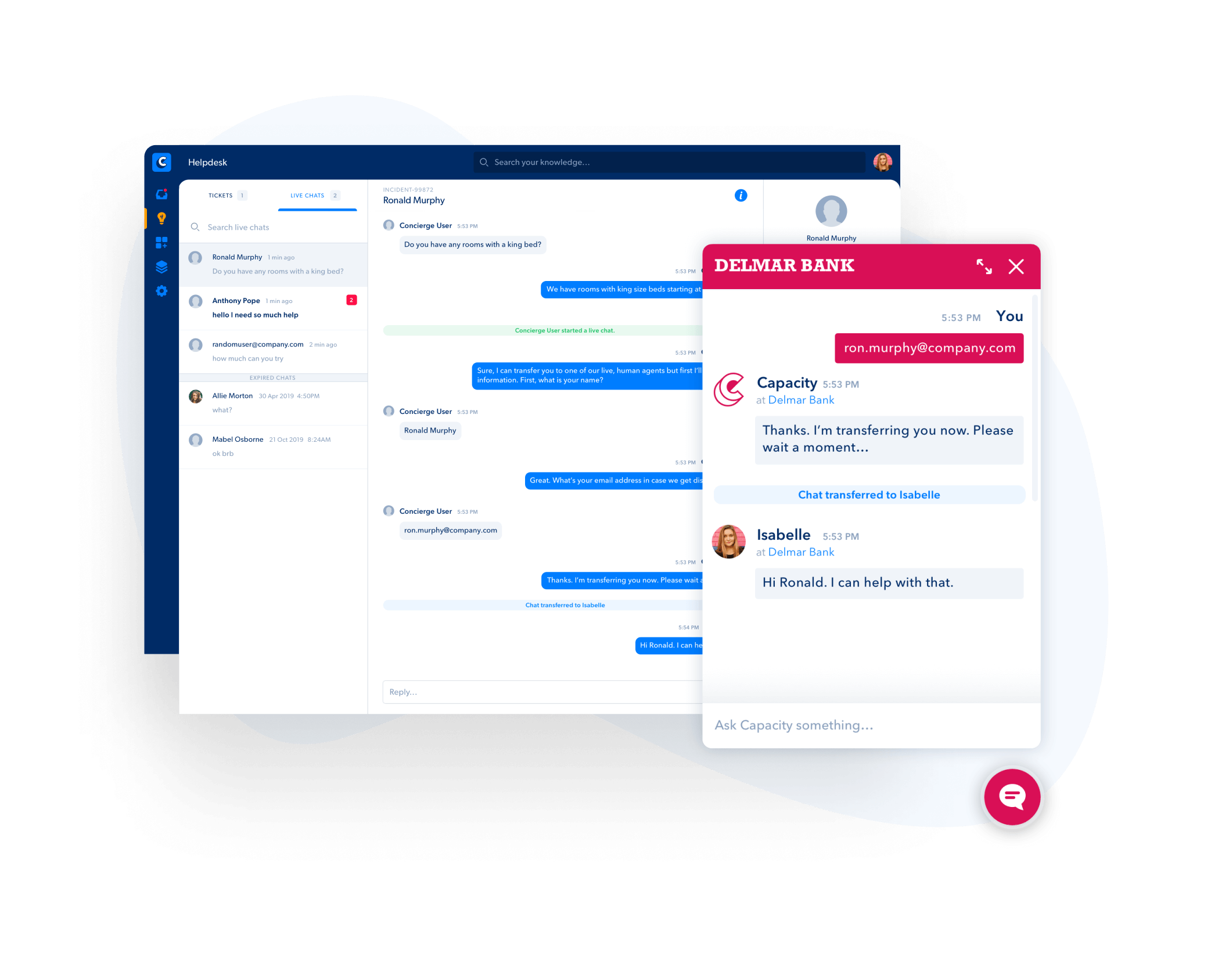 ---
2020 - MARCH
Developer's Platform
This new feature allows you to easily tailor your AI-powered support automation platform to your org's needs, and to instantly access all of your organization's apps.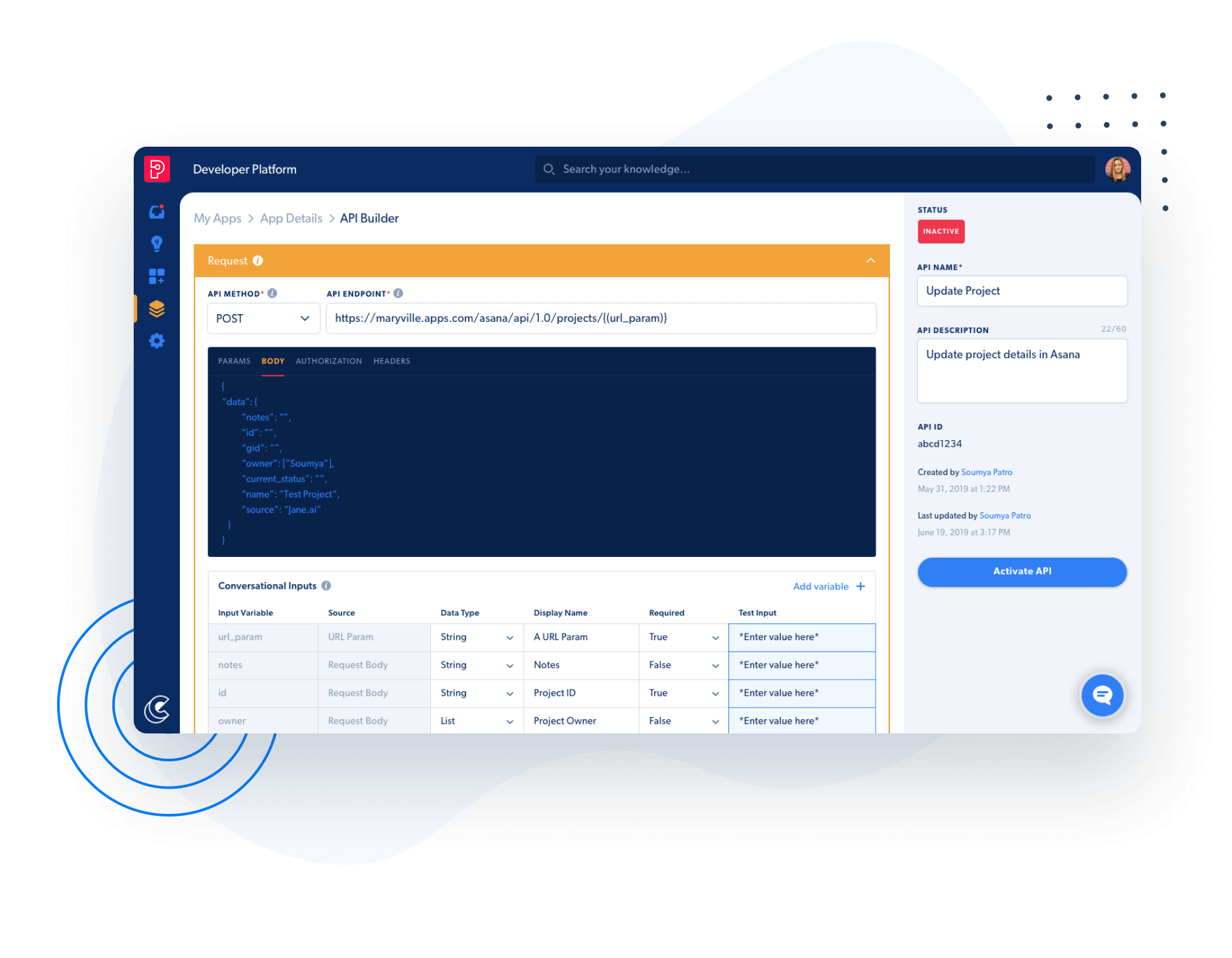 ---
2020 - February
Guided Conversations
Capacity's Guided Conversations offers next-level support that allows customers and teams alike to follow an intuitive path for effective answers.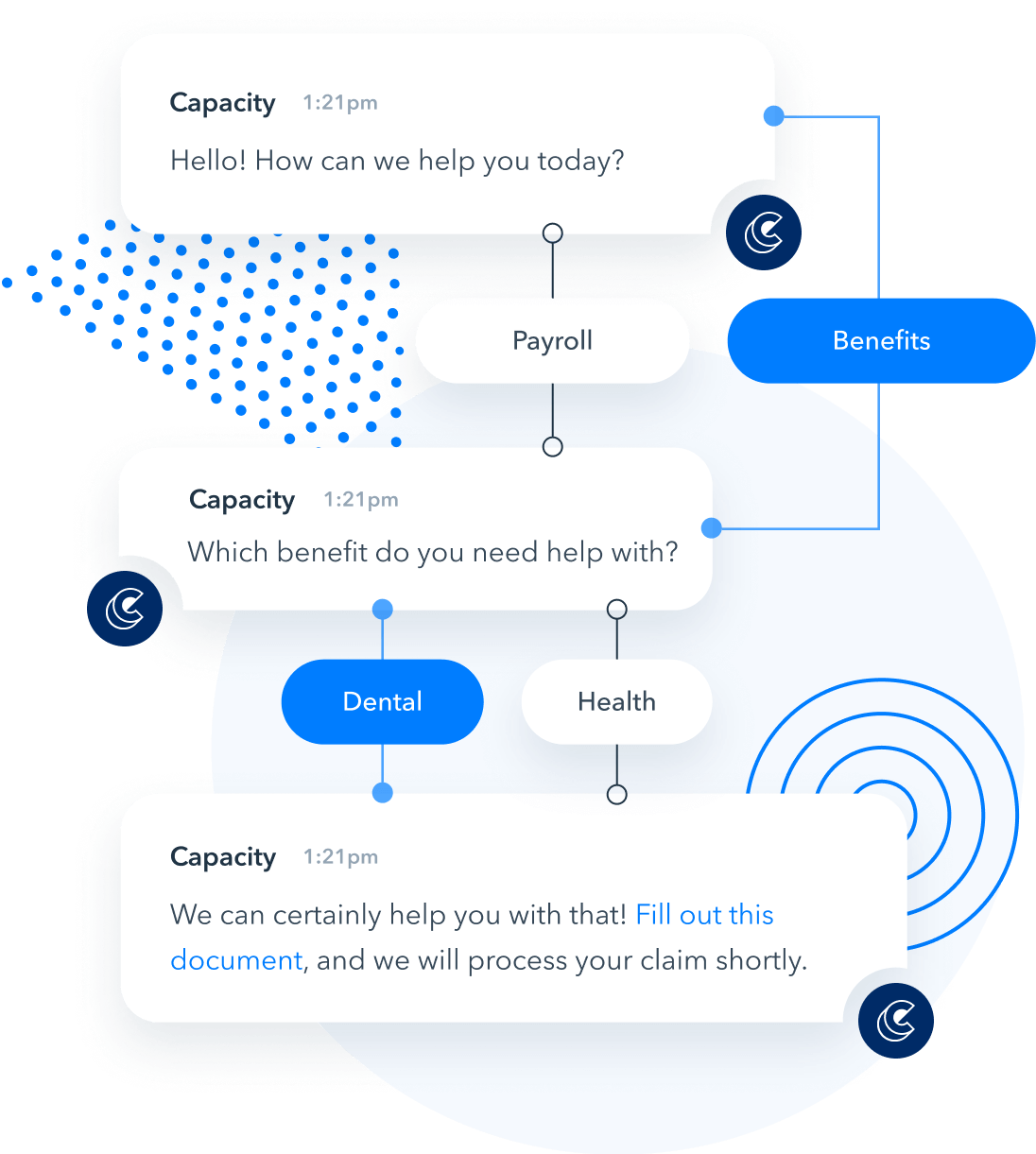 ---
2019 - DECEMBER
Capacity Cloud Drive
The Capacity Cloud Drive gives users the ability to upload, download, and share files directly from the Copilot Console. 
Happy Holidays!
It was a bit of a quiet month, but not because Capacity hasn't been working hard to bring you more awesome features. They're not quite ready, but almost, and we're excited to push these features and products out in January. Stay tuned!
---
2019 - NOVEMBER
Capacity Newsletter Launched!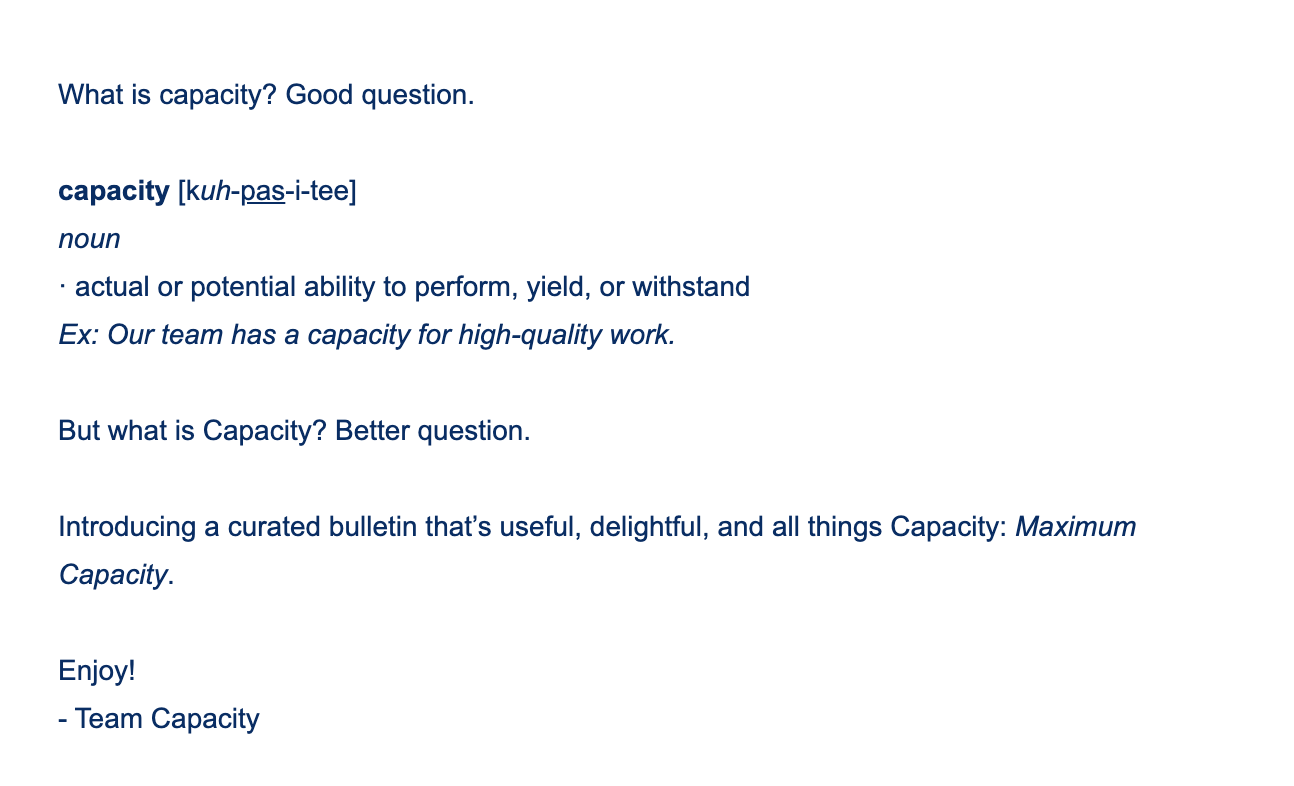 ---
2019 - OCTOBER
---
2019 - September
Additional Helpdesk Filters
We're expanding the functionality of how you manage your team's tickets. The following Filters are now available:
Open
Dismissed
Forwarded
On Hold
Dismissed
Additional Knowledge Base Filters
New Exchanges
Recently Updated
Expiring Soon (Within 30 Days)
Expired
---
Capacity Support Center Launch
The Capacity Support Center will host a wealth of knowledge articles covering topics from getting started with Capacity and contacting the Support team, to how to manage your Knowledge Base and respond to users' questions.
You can access the Support Center by visiting capacity.com/help, or through the "Resources" menu tab at the top of the Capacity website. You can rest assured that as the Capacity platform grows, our Support Center will grow along with it—we always want you to be capacitated to empower your organization with Capacity.
What if I can't find an answer to my question?
If you aren't able to find an answer to your question in the Support Center, just get in touch with the Support Team at support@capacity.com.
---
2019 - AUGUST
Jane.ai is Now Capacity!
We wanted to share the exciting news with you first...
Jane.ai is officially rebranding to Capacity!
All things Jane.ai will be Capacity. We have a vibrant new website that does a fantastic job of showcasing our knowledge sharing platform, highlighting our associated suite of products, and providing an inspiring glimpse of the future. 
What does this mean for our customers?  This means continued support, increased communication and updates from our Customer Success team, and even better product features on the horizon.  Our goal for this rebrand is to make the impact of this change as minimal as possible for both you and your customers. After tomorrow, you can continue using the CoPilot just as you always have!
Important: If anyone at your organization has any questions, please feel free to direct them to our FAQs page. 
Thank you for your continued support, and we look forward to increasing your capacity to do your best work. 
Regards, 
David Karandish
CoFounder & CEO of Capacity 
---
CoPilot Console
We've officially entered the next phase of our journey, and we're excited to share these details with you. Take a look at a few functionality updates that come along with the new name.
What's changed?
Helpdesk: What was formerly known as the "Inbox", will now host all user communication, including inbound questions and feedback—all in one location.
Knowledge Base: The expansion of the platform includes a new interface that creates greater functionality when adding exchanges and updating answers.
Branding: We have a vibrant new website that does a fantastic job of showcasing our knowledge sharing platform, so it's only right that our Copilot Console received the same attention.
Why the change?
These product redesigns are the first in a series of updates that support our pursuit of building amazing products. As we roll out more changes throughout the year, you'll continue to experience improved functionality.
---
2019 - JULY
Knowledge Library Filters
Filters enable CoPilots to chose which content they view in the knowledge base based on specific criteria. CoPilots are now able to filter exchanges by New or Recently Updated.
---
Customize Console View
You are now able to change the display style for the Exchange Detail screen. Switch in between Cozy view, and Comfortable view in Console.
---
Security Update to Console Login
Get a CoPilot link directly from the default Console screen. When the CoPilot is not logged in, the default screen will ask for your email address to securely send a new CoPilot link, allowing you to get back into the Console.
---
2019 - JUNE
Security, Bug fixes, etc.
These releases are all small heroes in their own way. They aren't visible, but they make your lives easier in the most awesome way! Included in this month's updates and improvements:
Security updates
Permission and Group improvements
AI Engine upgrades
---
2019 - MAY
Engine Upgrades
Nothing too exciting to announce, but we've upgraded what happens under the hood. Although you won't see much change, you will experience a much faster response to user enquiries!
---
2019 - APRIL
Permissions - Group Access
This update to permissions gives the Console greater versatility with how groups in your organization access information.
Other Permission Updates:
User Controls
Directories
Group Access Controls
---
2019 - MARCH
Web Concierge 2.0
Introducing a faster, stronger and more nimble web concierge! Businesses hire Jane to make their information accessible instantly through an easy-to-use chat interface -- we have redesigned the web concierge with this in mind.
The new web concierge will feature a more concise greeting on first launch and expand to include your full greeting once a user engages with Jane. Your branding preferences will automatically transfer to the new format, so there is no action required.
Why are we doing this?
Jane's new web concierge theme will take up less real estate on your website, which is one of the most frequent pieces of feedback we receive from users and customers. By reducing Jane's footprint, we avoid blocking content and links, which will improve the mobile experience.
---
2019 - FEBRUARY
Drag and Drop
We've built in more functionality in how you interact with the CoPilot Console. Drag and Drop is just the first of many features coming soon that will allow CoPilots to organize and manage their company's information quickly and efficiently.
---