Updated by Lordell
A Guided Conversation (GC) is a type of Exchange. Guided conversations are organized in your Knowledge Library the same way a Standard Exchange is. In this article, we will explore what Guided Conversations are, key components, and how you can use them to guide users down the path to a simple answer. 
For a quick refresher on what Exchanges, Variables, and Dynamic Variables are and how they work, check out the Exchanges Overview article.
How to use Guided Conversations
Watch this video to learn how to Create and use Guided Conversations in the Capacity Console:
Each step of a guided conversation is built using Cards. There are currently five card types a user can use to build a Guided Conversation:
Multiple Paths
The Multiple Paths card allows a user to choose paths most closely related to the topic they need help with.
If a user asks a question related to their internal information, they may want to choose a path that discusses Benefits, or they may want to follow a path that talks about Payroll. With the Multiple Paths card, the conversation can easily pivot to the most relevant path.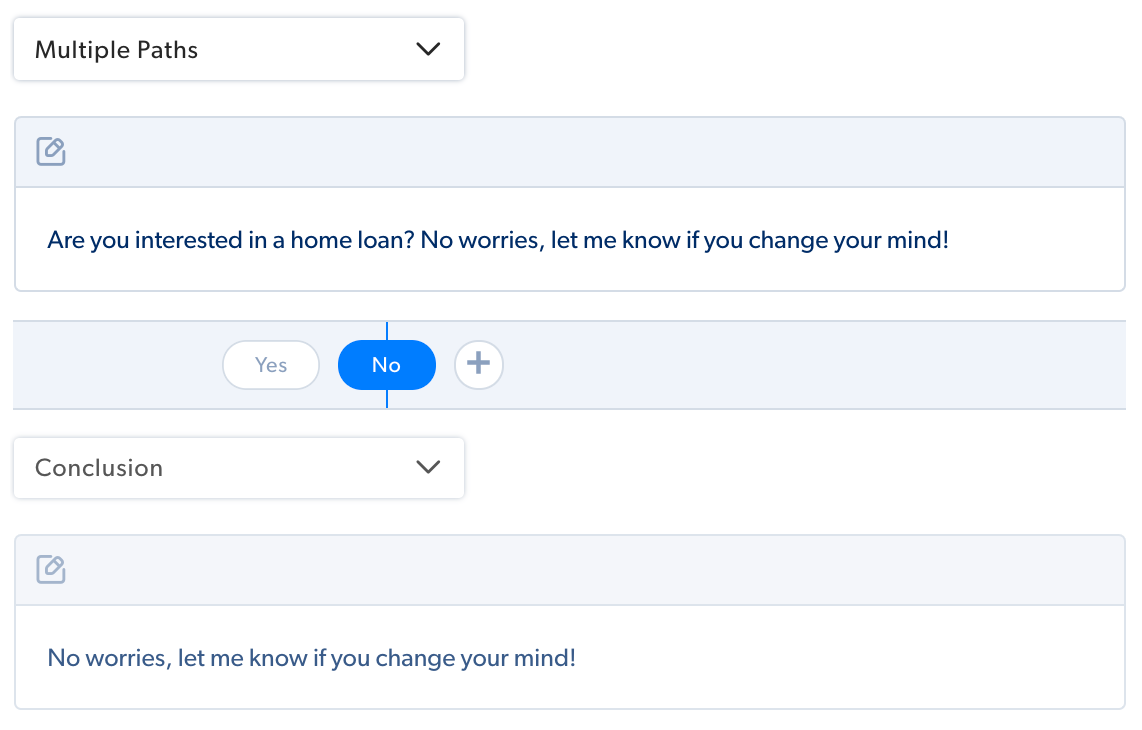 Collect Information
This card enables you to create a Dynamic Variable. A Dynamic Variable can be used throughout the duration of a Guided Conversation. Let's look at the difference between a Dynamic and Standard Variable: 
Standard Variable: When saving questions in Capacity, CoPilots can save variables as multiple ways to ask the same question. Although you can save many ways to ask the same question, these all link to the same answer in Capacity.
Dynamic Variable: A Dynamic Variable will function in a similar way to a Standard Variable. The difference is that the information from Standard Variables is pre-saved in Capacity. A Dynamic Variable collects a user's answer and allows Capacity to recall that information to use later in the GC. 
Save Reply As: In the Save Reply As field, you can name a Variable. When a User answers a question associated with a Collect Information card, their reply will automatically populate wherever that Variable is placed.
Send Email
The Send Email Card allows you to automate followup emails using information collected previously in Capacity's conversation. To insert a Dynamic Variable, click the Insert Icon and choose the variable you want to have included in the email. 
Action
Action cards enable you to forward the information you've collected from a User to the application of your choice. 
Action Dropdown: To the right of the card selector on Action cards, you'll find the Action Dropdown, which displays the actions you can choose from.
Inputs: The Input section of the card is where you set up what information you want to send to an application.
Outputs: An Output is the result of Actions. They can be inserted into a Guided Conversation to display information from a specified application.
Follow-up Inquiry
Follow-up Inquiry Cards enable you to add a new exchange, Guided Conversation, or skill at the end of a current Guided Conversation.
This card enables you to:
Use any information that Capacity collected in the original conversation in the follow-up inquiry.
Restart the conversation if a user enters invalid data at any step during the Guided Conversation.
Keep your users engaged by suggesting other related questions that they can ask the bot.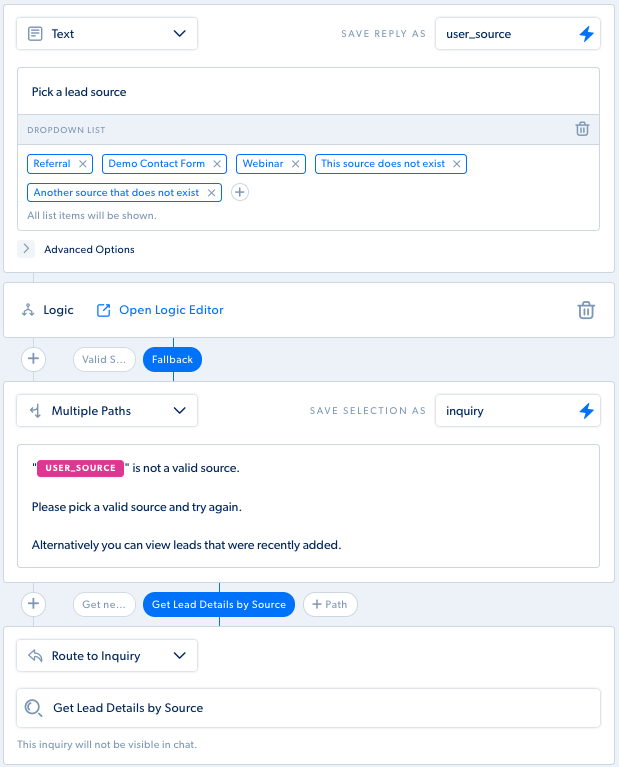 Conclusion
A Conclusion Card is used to end a Guided Conversation. Adding a Conclusion Card after an Action allows you to notify the User that the Action has taken place, ending the Guided Conversation. 

---
Creating a New Guided Conversation 
Click the blue + add button in the upper right hand corner to get started with a new Conversation. 

Next, select the Guided Conversations option from the dropdown menu on the upper left side of the window. 
After filling in the inquiry and selecting a template, click the blue "Build Response" button. This action will take you to the page view of your Guided Conversation.
Hover over your guided conversation and click the edit button on the right-hand side of your console to enter edit mode and to start building content for your guided conversation.
Now that you've created a Guided Conversation, it's time to finish building your decision tree!
Additional Resources:
For help with Guided Conversations or any of the above topics, please get in touch with our support team at support@capacity.com.