Updated by Sammie Stephens
An Exchange is just like any other conversation. Exchanges are made up of inquiries and their responses. 
Inquiry - An inbound question from a user. Inquiries are essentially prompts that, when triggered, tell Capacity which responses to return. 
Response - What is returned by Capacity when it matches to an inquiry. 
Creating a New Exchange 
Create exchanges by clicking the "Add" button located in the upper right-hand corner.
Next, select an exchange option from the dropdown menu on the left side of the window. 
After filling in the information, click the "Save" button to add this exchange to your Knowledge Library.
Best practice is to have 3-4 inquiry variants on each exchange to help Capacity understand all the different ways a user may ask a question. For example, "How are you?" and, "What's up?" are synonymous phrases, but may appear very different to a chatbot.
View/Edit Exchange Details Screen 
Clicking on an exchange when viewing from the Knowledge Base will bring you to the Exchange Details screen. This screen provides CoPilots a more detailed look at the information contained in an exchange, as well as options to add additional variants.  
Exchange Settings 
Show in Autocomplete and Clarifier: When this option is toggled on, Capacity will showcase potential inquiry matches as the user types and in the clarifier option. To turn off, click the gear on the variant, and toggle off. A red eye will now appear on the variant to indicate this option is off.

Expiration: Not all information Capacity learns is evergreen. The Expiration feature enables CoPilots to set the expiration date of time-specific information, for example, policies, special events or holiday information, etc.  To add an expiration, click into the response so it turns into edit mode. Add the expiration in the bottom left corner. Click Save.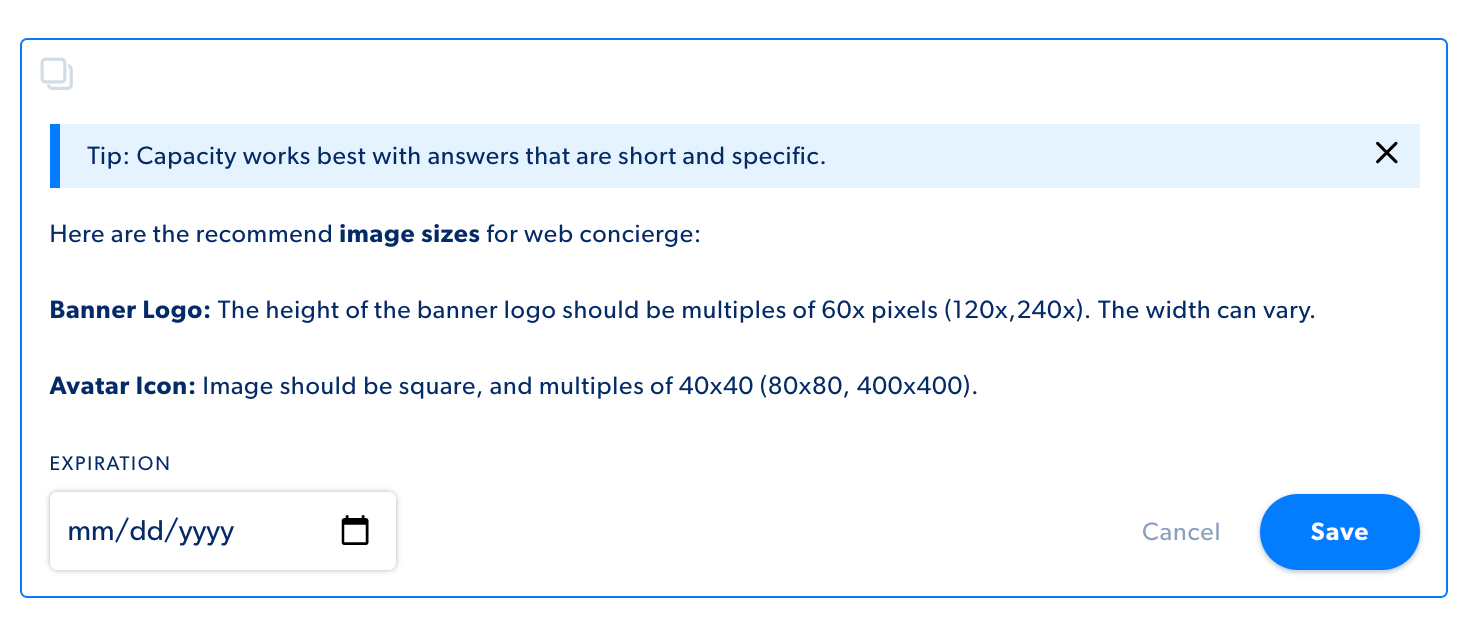 Formatting Exchanges
Text in exchanges can be formatted by highlighting the specific text and the formatting options will appear. When you finish your formatting, click Save in the bottom right.
Bold
Italicize
→ Blockquote
Hyperlink options below:
Url: Paste the Url in the Target Location field.
Email address: Format as: Mailto:support@capacity.com in the Target Location Field. (There is no space between mailto: and the email address.)
Phone number: Example phone number 123-456-7890. Format as: <a href="tel:+1-123-456-7890">+1 (123) 456-7890</a> and then click save.
File: Click the Link to File Tab. Select your file, and add a specific page number in the bottom left if desired. Click Insert.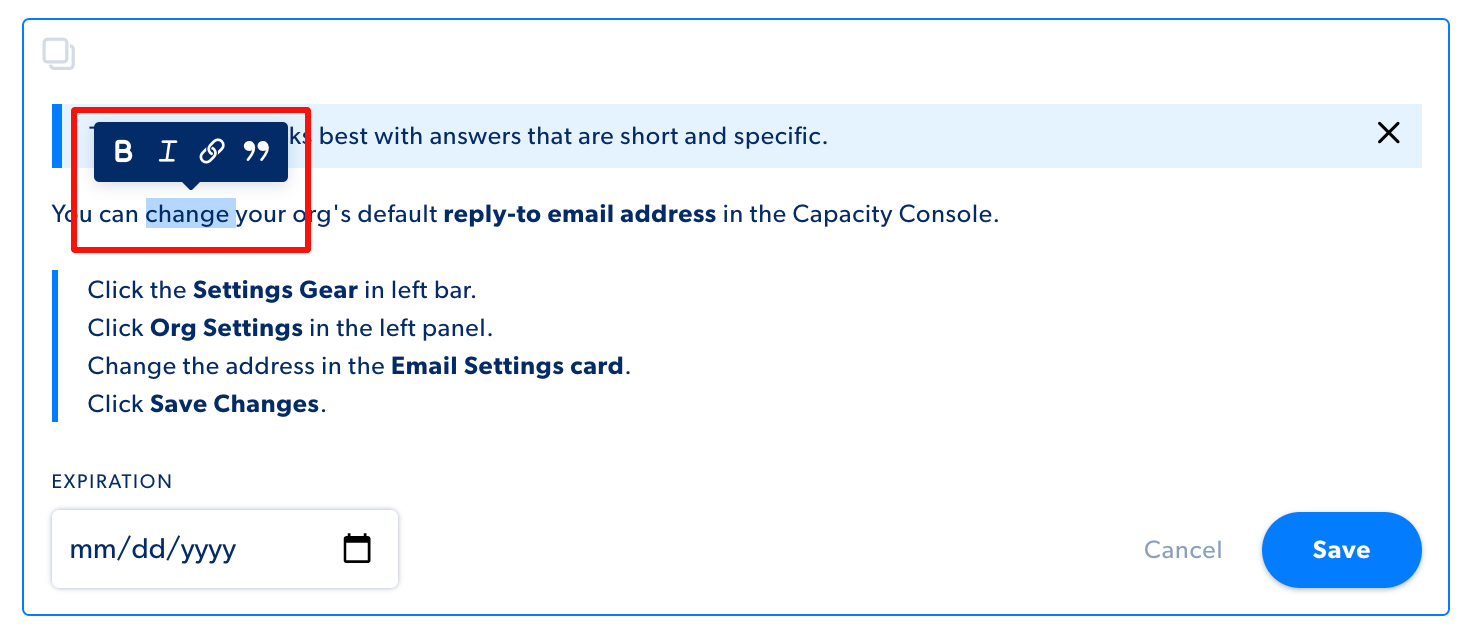 Bulk Exchanges
To add exchanges in bulk, follow the steps below:
Download this template.
Add your responses (answers), your inquiry variants (questions), and an expiration date (optional).
Send your completed template to your Customer Success Manager or support@Capacity.com.
For best practices on creating exchanges, see detail below.
Best Practices for Exchanges
Inquiry Variants
In order to get the best match possible, we suggest that you create 3-4 variations of how a question can be asked. The more variants you add, the better the match rate will be over time.
We suggest that you keep the inquiry variants short and sweet (no run-on sentences, or multiple sentences in one variant).
Variants should never include personal data, such as name, IDs, etc.
Punctuation is optional on variants.
Responses
Reiterate the inquiry variant in the response when possible. Having their inquiry repeated makes the user feel confident that the chat bot has given them the response to their question.
Try to keep the responses short and sweet. Because of the size of the chat bot interface, users will more easily consume shorter responses.
Bold or italicize key terms to draw attention to important facts like contact information, or hyperlinks.
When needed, direct the user to the source of information by providing a hyperlink.