Updated by Dana Ivancic
Capacity customers use our Encompass integration to retrieve information from the Encompass platform. In this article, we outline the set up instructions, and the types of responses available in the Capacity chat bot.
Jump to see Encompass in the Capacity chat bot
Integration Set Up
Step One: Provide the below information
Email the following to your customer success manager who will then request your API credentials from Ellie Mae.
Lender Name
Lender Encompass Instance ID # [begins with BE (Production) or TEBE (Test)]
Lender Encompass CID # (Production and Test)
Lender Contact person name + title + email address
---
Step Two: Create a new user profile for
Capacity
When Capacity receives the API Client ID, the Lender must create a new user profile for the Partner. Once Capacity receives your API keys, we will let you know and you'll then complete the following steps:
On the Organization/Users screen, in the upper panel, click to select an organization folder to which to add the user. You may need to expand the hierarchy to locate the folder. 
In the lower panel [Enabled Users], click the New icon. 
On the User Details screen, in the left panel, type a User ID. 
Select the API User check box. 
Enter the Partner's API Client ID. This is the API Client ID that has been provided to the Partner by Ellie Mae. Your company's assigned Encompass Client ID cannot be used here.
The Lender follows the remaining steps in the Add a User process below as applicable. Note that  only required fields (denoted with a red asterisk) need to be provided to save this new user.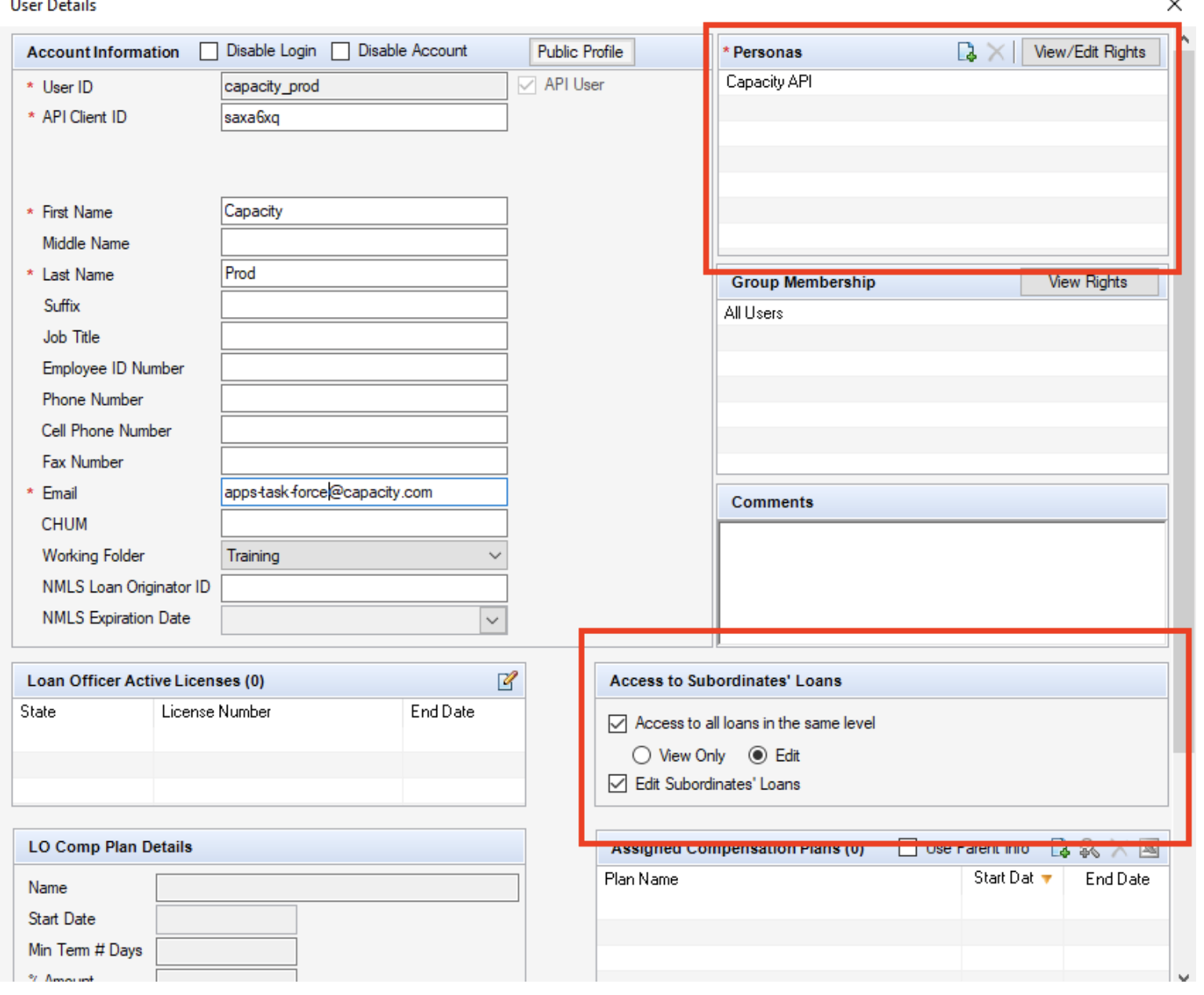 ---
Step Three: Assign a persona to the new user
When adding a new user, the Lender is required to assign a persona to this user. The Lender can assign multiple personas, but at least one of the personas must be set up with permission to access LO Connect in order for this user to access the Lender's Encompass instance via the APIs. (To enable LO Connect for a persona, in the Personas setting, select the persona, click the  Access tab, select both Microsoft Windows Encompass Client and Encompass Mobile (LO Connect in a web browser), and click Save).
Since the Supported Encompass Partner will be restricted from logging into Encompass, none of the access rights defined in the persona will come into play.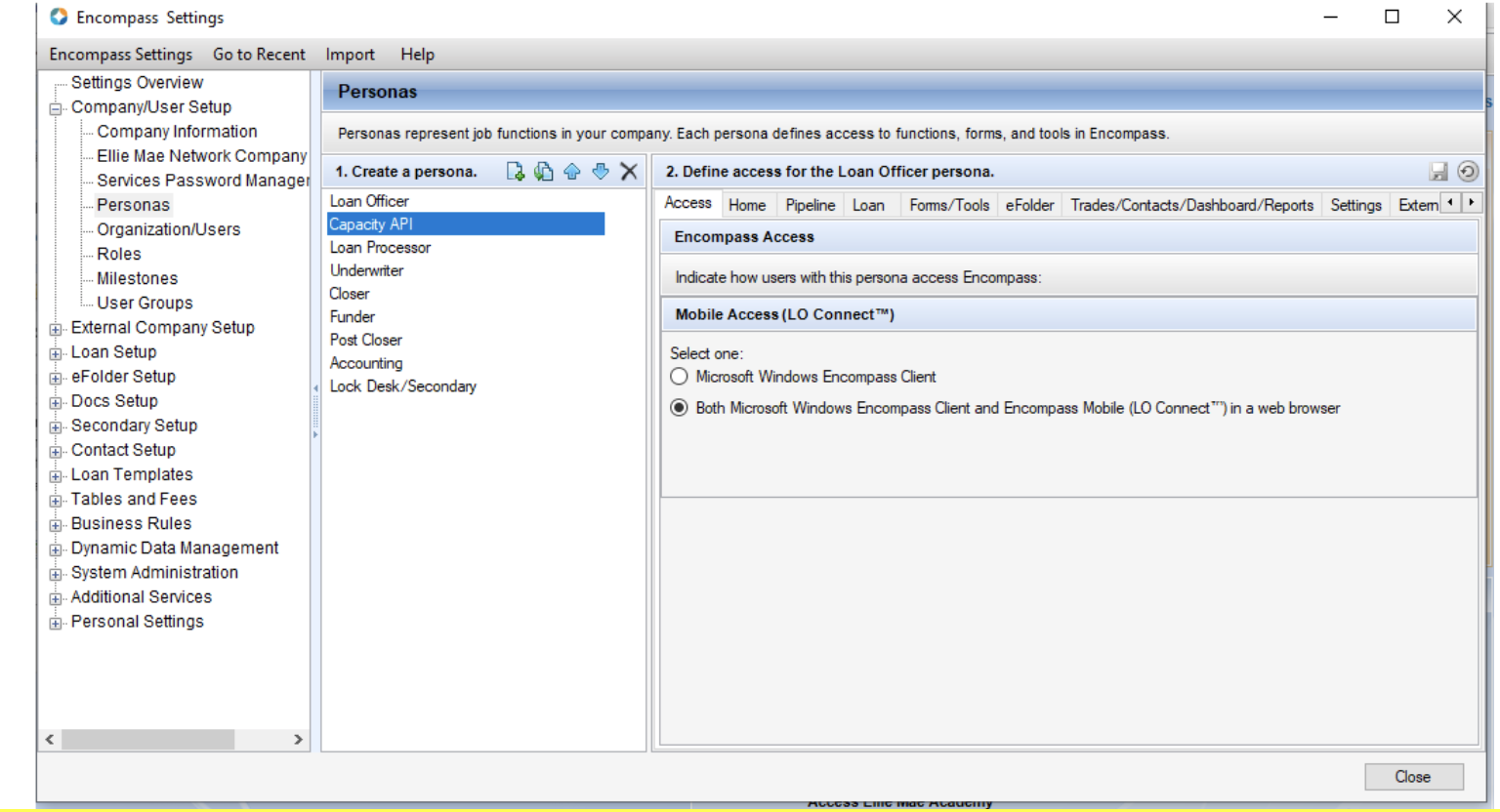 Remove from the "Not Accessible Column" on the Persona for any field IDs required for use by the Partner during the integrated exchange of data. 
New users indicated as an "Capacity API User" as described here count against the Lender's enabled user license limits. After the Lender creates the Partner API user, the Lender notifies the Partner that the Partner can now access the Lender's instance of Encompass using APIs. 
Let your customer success manager know once you've completed these steps.
---
Encompass in Capacity chat bot
Look up status of loan (can search by borrower name or loan number on any inquiry below)
Details

Here is what I found for "Example Customer":

Current Loan Status: Active Loan
Loan File Status: Active Loan
Loan Denial Status: No
Loan Milestone: Submittal
Look up loan details
Details

Here is what I found for "Example Customer":

Property Address: 5555 Main Street
Property City: St. Louis
Property County: St. Louis City
Property State: MO
Property Zip: 63119
Loan Borrower Name: Example Customer
Loan Number: 000000000
Loan CoBorrower Name: Example Customer
Loan Lock Expiration:
Loan Lock Status: Not Locked
Loan Folder: Pipeline
Loan Rate: 4.00
Loan Amount: $250,000.0000
Loan Down Payment: $50,000.0000
Property Type: Single Family
Loan Lock Date: 12/1/2020
Property Closing Date: 1/1/2021
Loan Processor: Example Processor
Loan Closer Name: Example Closer
Loan Underwriter: Example Underwriter
Loan Officer: Example Officer
Current Loan Status: Active Loan
Loan LTV: 80.00
Borrower Fico: 750
Fico: 755
Borrower Home Phone: 555-555-5555
Borrower Email: customer@capacity.com
Loan Occu Type: Primary Residence
Loan Type: VA
Top Ratio: 7.50
Bottom Ratio: 7.35
CoBorrower Fico: 750
Look up loan borrower information
Look up loan underwriter information
Look up loan LTV
Look up loan lock status Show me the loan lock status
Look up loan closing date
Look up loan agents